turnkey
total corrosion management
overview
We offer comprehensive Corrosion Management solutions for platforms/ rigs onshore and offshore.
Corrosion is a perennial problem experienced at all kinds of manufacturing facilities. High rate of corrosion increases the chances of equipment failure, asset degradation, delays, shutdowns, accidents and incidents that could result in loss of life, profits and reputation.
OCSISNL maintains assets and enhances their operating lives by leveraging cutting-edge technology, word-class equipment, certified personnel and third party inspection procedures.
Our team of NACE-certified inspectors ensures the highest standards on all jobs.As a total integrated solutions provider, we offer comprehensive corrosion management solutions for platforms/ rigs onshore and offshore. We offer customized and comprehensive auditing, inspection, planning, execution and project management services.
Reduce

Reduce total system cost through TCM and delivering value.

Provide

Provide integrated service provider model for all corrosion protection related activities.

Adhere

Adherence to quality, health, safety, environment, (QHSE) standards of the client.

Define

Work as per the client specification.

Comply

Comply to client maintenance schedule.

Enhance

Enhance the client's Brand Image.
Our Undertaking
As an Integrated Service Contractor (ISC) for TCM, OCSISNL will:
Total Corrosion Inspection

Analyzing corrosion risk and generating customized approach for life extension of assets.

Pre-Inspection

Performing pre-inspection and generating a pre-inspection report.

Prioritisation & Budgeting

Prioritise project milestones and prepare budgets accordingly.
Manpower Management

Deployment / training / replacing 'painters' team.

Asset Management

Investing in the equipment/ training needs.

Inventory Management & Reporting

Standardized corrosion management program to achieve reduction of inventory up to 30%.
To know more about Integrated Service Contractor (ISC), get in touch.
We are very satisfied with the staff and crew of OCS.
Atwood Beacon
Total Corrosion Management
Benefits of Implementing OCSISNL TCM Solutions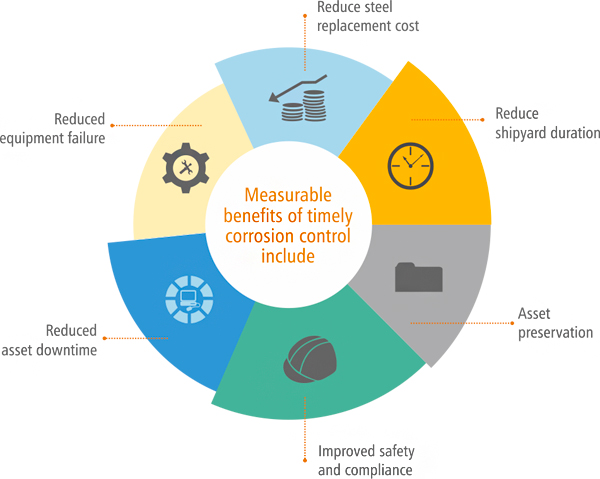 TCM Services
Total Corrosion Management Services We Offer

How We Do It
Process of Implementing TCM
Corrosion Inspection:
OCSISNL has expertise and advanced NDT technologies and systems to detect corrosion before it actually manifest or become problematic to the structural integrity.
Prioritization & Budgeting:
OCSISNL identifies and drafts scope, plan, and budget requirement for the maintenance activities that can be monitored and controlled in a systematic manner.
The Process Typically Includes:
Preparation of detailed corrosion audit report
SWOT analysis
Identifying different forms of corrosion
Categorization of areas according to corrosive zones
Plan and budget structured maintenance
Schedule and execute
Deployment of Trained Manpower:
Trained and certified man-power provided, QA/ QC/ HSE advantage, coating personnel are certified to NORSOK M50.
Project Management:
OCSISNL project team has a proactive approach to ensure that the entire coating project are completed in time bound manner with highest standard of quality and safety and within allocated budget. Our teams are actively engaged from the initial planning stage to final execution to ensure that applied system should last for desired service life and avoid any downtime or accidents due to corrosion.
In-house Training & Competence Assessment:
OCSISNL provides extensive training to inspection, supervision and application team. The training programme typically covers:
Basics of corrosion
Role of coating in corrosion mitigation
Surface preparation and application strategy
Inspection and audit methodology